If you book a Yakushima tour with YES we will also be happy to RESERVE your Toppy & Rocket hydro-foil tickets to Yakushima. The reservation is free, but unfortunately the tickets are not!
Contact YES for more details.
—————————–
Don't panic if you find yourself stuck in Yakushima in the pouring rain – keep smiling and make the most of your time with one of our *Rainy Day Tour Plans.
The plan below is for a full day of activities, although we can adapt the plan to suit your schedule. As an example, if you want to make the most of your first or last day on the island then let us know your arrival or departure times and what activities you are interested in, and we will custom-make your tour for you. The tour includes transport, insurance, lunch, activity fees and entrance fees. We will pick you up and drop you off at your accommodation, or at the port / airport.
In order for us to arrange all your activities and make a restaurant booking then the Plan A tour needs to be booked with us by 15:00 the previous day. The Plan B tour needs at least 24 hours notice as it can be difficult to source ingredients on the island.
*Tour also possible in fine weather!
Rainy Day Tour per person
1person: 17,000円 | 2 – 3 people: 12,500円 each | 4 people+: 10,000円 each
included in the price: lunch bento / insurance / transportation
Plan A
Yakusugi Shizen Kan & World Heritage Museum (1.5 to 2 hours)
The Yakusugi Nature Museum and its neighbouring World Heritage Museum offer fascinating insights into the lives and culture of forestry on the island. We will guide you around the museum, explain the exhibits and culture, history and lifestyle of the local people.
Senpiro & Torroki Falls (1 hour)
A short drive south of Anbo these two waterfalls are both accessible with a very short walk from the car. On rainy days the waterfalls are at their most impressive. Umbrellas provided!
Local Yakushima Restaurant (1.5 hrs)
A leisurely lunch at a very popular traditional Yakushima restaurant. This is your chance to try some delicious, fresh, local and seasonal Yakushima food. Please let us know at the time of booking whether you have any dietary preferences and we will do our best to accommodate them in our restaurant choice.
Matsumine Bridge (30m)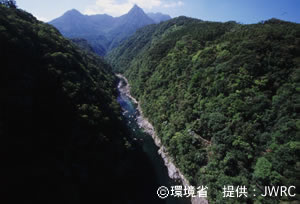 We make a brief de-tour up to the Matsumine bridge. This impressive bridge hidden away in the back roads of Anbo crosses a valley high over the Anbo River. It offers stunning views of the river, mountains and forest – even in the rain! We like to include this in our tour because even with an explantation of its location, it is almost impossible to find this bridge (unless you are lucky enough to just fall upon it).
Yakusugi Woodcraft factory tour and craft making (1 hr)
First you watch the masters at work and then you try your hand at it. We visit a traditional Yakusugi timber processing woodshop. Here you can see a huge range of Yakusugi crafts ranging in price from that of a luxury car to a few hundred yen. You will then be able to make your very own Yakushima souvenir to take home with you. You can either make your own pair of chopsticks or a Yakusugi accessory that can be used as a keychain, phone strap or bag ornament. For an extra 1,500 yen charge there is the option to make a beautiful pendant necklace.
Traditional Shochu Factory Visit & Tasting (1hr)
Forget sake! Kyushu's local tipple 'shochu' is a much stronger, clear distilled spirit made from sweet potatoes. It's usually drunk mixed with either cold or hot water, but some like it straight. The factory we visit is one of only a few remaining that still produces shochu alcohol in the traditional 'handmade' way. After the 30 minute guided tour (the YES guide will interpret for you ) you will be able to taste some of their different kinds of shochu as well as some of the other drinks they produce including their popular passion fruit wine.
The order of activities may vary slightly depending on the location of your accommodation.
We can offer some variation in activities, please contact us for more information.
Your entrance fee to the museums, craft making activity and lunch are all included in the tour price.
Plan B Cooking & Culture
Japanese Cooking Experience
A morning Japanese cooking session and lunch with Yuriko. Your YES interpreter will meet you and take you to Yuriko's house in the beautiful setting of Mugio. Under Yuriko san's guidance you will learn the basics of Japanese cooking and then eat the delicious results. The cooking experience can be tailor-made to suit your interests and tastes. Just let us know what dishes you want to learn to make.
Also included on this tour are the following:
Senpiro & Torroki Falls
Matsumine Bridge
Yakusugi Woodcraft factory tour and craft making
Traditional Shochu Factory Visit & Tasting
For details see Plan A